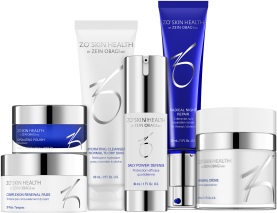 Kit includes:
Hydrating  Cleanser (60mL)
Exfoliating Polish (6.2g)
Complexion Renewal Pads (30 pads)
Daily Power Defense (30mL)
Radical Night Repair (30mL)
Renewal Creme (50mL)
This Aggressive Anti-Aging Skincare Program delivers the highest
concentrations of actives, helping patients with aging and photo-
damaged skin to radically reduce wrinkles, hyperpigmentation,
fine lines, rough texture, and thin/sagging skin. This kit has everything you need for the amazing at-home retinol peel. Please contact our office for more details and instructions. 
Treatment that work in conjunction with product: 
Venus Viva
Juliet Facial Resurfacing
Photofacial/Pigment Spots
Laser Genesis
Hydrafacial


Note: "These products require a consultation with our dermatologist. If you are wishing to purchase these products and have not been seen at our clinic before please be aware you may require a virtual or in person consultation before your order can be fulfilled."