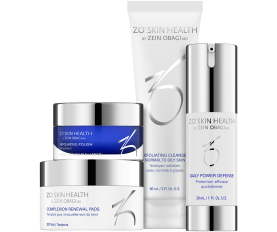 4 products - travel sized Exfoliating Cleanser, travel sized Exfoliating Polish, travel sized Complexion Renewal Pads and travel sized Daily Power Defense
The first line of defence against the natural aging process.
Provides the essential tools to help achieve healthier skin
specialized enzymes, and antioxidants to promote cellular function
and restore and maintain youthful, healthy-looking skin.
For little or no apparent signs of chronological or photo-aging.
Treatment that work inconjuction with product: 
Venus Viva
Juliet Facial Resurfacing
Photofacial/Pigment Spots
Laser Genesis/Diffuse Redness
Vein Reduction
Hydrafacial